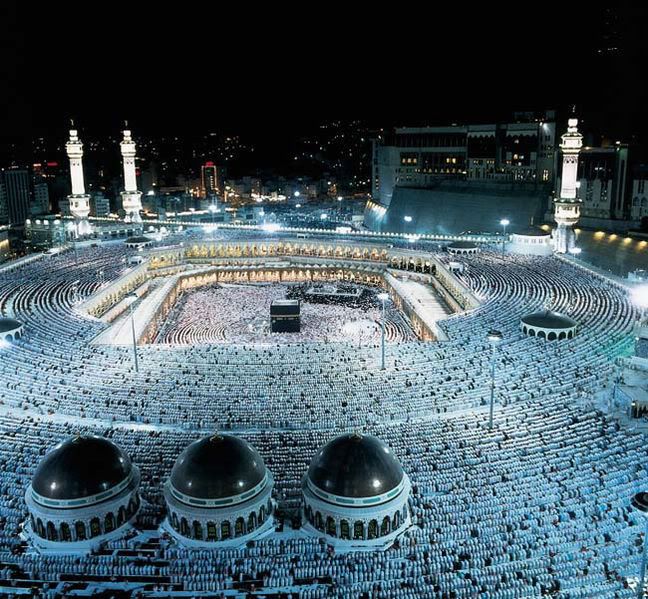 Interesting article - anyone have any thoughts on it?
**Edited to include my thoughts **
When I first glanced at the title I was intrigued by it....thinking hmm maybe this is about achieving some unity in the Muslim community
( trying to unify Eid's so that we all start them at the same time,
or at least not have
such heated debates about it
) but as I opened the article and started to read it, I found sadly that that was not what it was about. Nope, it is about GMT or should it be MMT (Mecca Mean Time - sorry couldn't help it)
I mean really, is this the only 'problem' of the Muslim Ummah (community), gee is there not poverty, injustice running rampant in many of the 'Muslim countries'?? (Ok, I realize that it is not only a problem with Muslims, but for the sake of argument, lets focus on Muslim communities)
Alhamduillah, (all praise is due to Allah) Mecca is the spiritual center for all Muslims, and as such we are told to turn towards there when praying. We are mandated to make a pilgrimage there when we are able to financially, so yes we can say as Muslims we consider Mecca the center of our spirituality. Why do we need to concern ourselves with how and where the world time is centered? I feel that this will only incite a bit more discord between Muslims and Non-muslims (as if there is not enough already). I think non-muslims will see this as yet another way muslims are looking to 'distance' themselves from the rest of the world. I certainly feel that way, I mean I have not looked into the history of where GMT came from, nor do I really wish to do so. I am basically happy to know what time it is where I live. Do I care where the center of 'time' should be or where it is right now? No, not really.